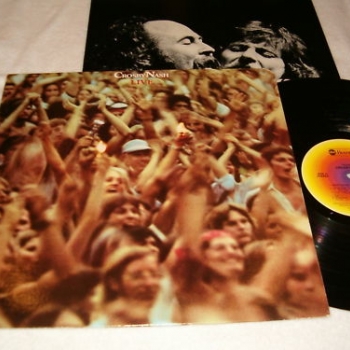 maravillosa y lujosa edicion con solido encarte interior con fotos del duo y del resto de la banda..

el duo presenta este albun que fue grabado en directo en sus giras de 1975 a 1977 con todos sus clasicos que ponen los pelos de punta ...!!!

   temas como deja vu o el tema inedito King of the Mountain..todos los temas ademas condimentados por el genial David Lindley en las guitarras !!
Notes / ReviewsPersonnel: Graham Nash (vocals, guitar, piano); David Crosby (vocals, guitar); David Lindley (slide guitar, violin); Danny Kortchmar (guitar); Craig Doerge (melodica, piano, synthesizer); Tim Drummond (bass); Russ Kunkel (drums).

Producers: David Crosby, Graham Nash, Don Gooch, Stephen Barncard.

Reissue producers: Stephen Barncard, Mike Ragogna.

Recorded live between 1975 & 1977. Includes liner notes by Steve Silberman.

This is an expanded version of the original 1977 album. Two excellent Crosby songs are added, namely "Bittersweet," (originally on WIND ON THE WATER) and the previously unreleased "King of the Mountain," a meditation on celebrity that elicits an impressive atonal introduction from keyboard player Craig Doerge.

The players here are all veterans of Crosby and Nash's studio albums, and the music has a distinctly jazz feel. Anyone chancing upon the intro to LIVE's version of "Deja Vu" might well imagine they were listening to Weather Report or the Mahavishnu Orchestra. Meanwhile, Crosby and Nash's harmonies are as impeccable as ever (amazingly so, given Crosby's well-publicized drug proclivities at the time), and the album rocks far more than you might expect, with both Danny Kortchmar and David Lindley contributing surprisingly aggressive solos. Immigration ManLee ShoreI Used to Be a KingKing of the MountainPage 43FieldworkerSimple ManFoolish ManBittersweetMama LionDéjà Vu
tambien puede interesarte de nuestro catálogo