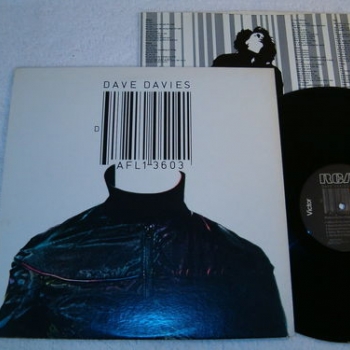 sensacional y raro de encontrar este su 1º lp del miembro orig, y hemano de ray davis...

su 1º albun en solitario...buen power-pop
Tracklis

tA1Where Do You Come From 3:40 A2Doing The Best For You 4:40 A3Visionary Dreamer 4:26 A4Nothin' More To Lose 4:05 A5The World Is Changing Hands 2:55 B1Move Over 3:43 B2See The Beast 3:52 B3Imaginations Real 3:50 B4In You I Believe 3:15 B5Run 3:57 CreditsBass Guitar- Ron Lawrence (2) (tracks: A1, B1, B2, B5) Bass, Drums- Dave Davies (tracks: A2, A3, A4, A5, B3, B4) Drums- Nick Trevisik (tracks: A1, B1, B2, B5) Written-By, Arranged By, Vocals, Keyboards, Guitar, Producer- Dave DaviesNotesPrinted inner sleeve with lyrics.

The RCA Victor label is half red (see images). The RCA label is all black.
tambien puede interesarte de nuestro catálogo