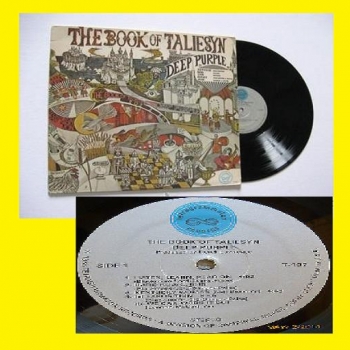 buscadisimo 2º LP con la 1ª y original formacion !! ..!! editado en la edicion original en el 1º label TETRAGRAMMATON.T 107 color plateado.

cello en un canto de la carpeta,vinilo en gran estado vg+ vg++ !!

PRIMERA FORMACION...CON curiosas versiones de BEATLES,(we can work it out) su clasico tema kentucky woman vesion del tema de neil diamond o incluso el tema river deep,mountain hight del repertorio soul....ETC....

En Julio de 1969 se publican los singles Kentucky Woman y River Deep, Mountain High y el segundo álbum: The Book of Taliesyn. Este álbum mantiene una línea similar a la de Shades of Deep Purple, incluyendo versiones de Kentucky Woman , River Deep, Mountain High y We Can Work It Out. Las nuevas composiciones del grupo son Listen, Learn, Read On, Wring that Neck, Shield y Anthem. En esta última pieza Jon Lord deja plasmada la gran influencia que ejerce la música clásica en su formación musical y que luego plasmaría en obras tales como April (1969), Concerto for Group and Orchestra (1969), Gemini Suite (1970) entre otras. El álbum alcanzó la posición número 54 en las listas estadounidenses.

The Book of Taliesyn es el segundo álbum de estudio de la banda inglesa de hard rock Deep Purple, publicado en 1968 a través de Harvest Records en el Reino Unido, en Tetragrammaton Records en EE.UU y en Polydor Records en Canadá y Japón. Este álbum sigue el estilo psicodélico de Shades of Deep Purple, aunque hay un sentimiento más duro y pesado en varias de las canciones
Temas
01.- Listen, Learn, Read On (Rod Evans, Ritchie Blackmore, Jon Lord, Ian Paice) - 4:05
02.- Wring That Neck (originally titled "Hard Road" in the USA) (Blackmore, Nick Simper, Lord, Paice) - 5:13
03.- Kentucky Woman (Neil Diamond) - 4:44
04.- a) Exposition (Blackmore, Simper, Lord, Paice)
b) We Can Work It Out (John Lennon, Paul McCartney) - 7:06 (6:66 instead of 7:06 on the LP).
05.- Shield (Evans, Blackmore, Lord) - 6:06
06.- Anthem (Evans, Lord) - 6:31
07.- River Deep - Mountain High (Jeff Barry, Ellie Greenwich, Phil Spector) - 10:12

Formación
Rod Evans - primera voz
Ritchie Blackmore - guitarra
Nick Simper - bajo, coros
Jon Lord - órgano, teclados, coros, arreglos de cuerdas en "Anthem".
Ian Paice - tambores
Personal adicionalProducido por Derek Lawrence
Diseñado por Barry Ainsworth
Bonus tracks registrados en 1968 y 1969 (BBC Top Gear sesiones el 14/1/69)
Digitalmente remasterizado y restaurado por Peter Mew en el Abbey Road Studios, Londres.
tambien puede interesarte de nuestro catálogo