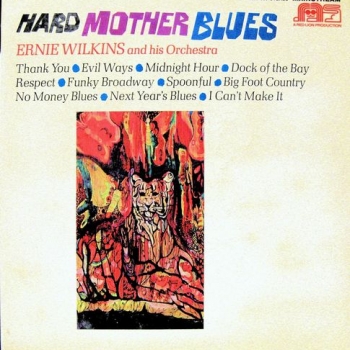 maraviloso albun de este experimentado musico y arreglista..

un genio manejando big band con un tono funky increible..

hecha un vitazo al repertorio plagado de temazos souleros COMO ..RESPECT, MIDNIGHT HOUR..DOCK OF THE BAY O UNA SORPRENDENTE VERSION DEL TEMA DE W. DIXON..Spoonful....ETC..

LOS 20 MUSICOS QUE INTERVIENE SON UNA MARAVILLA..DESDE CHUCK RAINEY AL BAJO..JOE NEWMAN..TROMPETA..DAVE SPINOSA GUITARR ETC..
A1 Evil Ways Written-By - C. Henry* 3:16 A2 Midnight Hour Written-By - S. Cropper*, W. Pickett* 2:29 A3 Dock Of The Bay Written-By - O. Redding*, S. Cropper* 3:00 A4 Funky Broadway Written-By - C. Lester* 2:52 A5 I Can't Make It Written-By - Ernie Wilkins4:08 A6 Big Foot Country Written-By - Ernie Wilkins3:53 B1 Next Year's Blues Written-By - Ernie Wilkins2:35 B2 Respect Written-By - O. Redding* 2:08 B3 Thank You Written-By - S. Stewart* 3:18 B4 No Money Blues Written-By - Ernie Wilkins3:21 B5 Spoonful Written-By - W. Dixon* 2:35 Credits¥Arranged-by- Ernie WilkinsBass- Chuck RaineyDrums- Grady TateGuitar- Arthur Bitker, Billy Butler (3), Dave Spinosa, Lionel Chamberland* Piano- Frank OwensProducer- Bob ShadSaxophone- Billy Mitchell, Chris Woods, Hubert Laws, Joseph Temperley* Trombone- Benny Powell, David Bargeron*, J. Billy Ver Planck*, Jack Jeffers, John GordonTrumpet- Snookie Young*, Joe Newman, Lloyd Michaels, Ray Copeland
tambien puede interesarte de nuestro catálogo