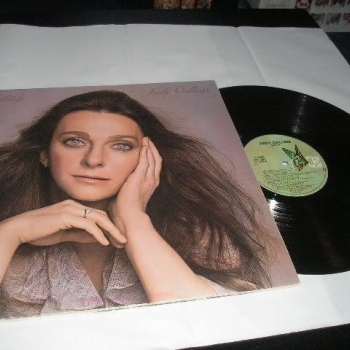 deliciosa vocalista y belleza en todos sus temas..MUY INTIMO, EL DISCOS ESTA DECIADO A SU MADRE.

preciosa presentacion.doble carpeta.. !!....IMPECABLE !!

The album is dedicated to Judy's mother, Marjorie Byrd Hall.
The album is dedicated to Judy's mother, Marjorie Byrd Hall. Moon Is a Harsh Mistress, The - 2:59 (Webb, Jimmy) Angel Spread Your Wings - 3:05 (O'Keefe, Danny) Houses - 4:32 (Collins, Judy) Lovin' of the Game, The - 3:03 (Garvey, Pat) Song for Duke - 3:33 (Collins, Judy) Send in the Clowns - 3:57 (Sondheim, Stephen) Salt of the Earth - 3:59 (Jagger, Mick & Keith Richard) Brother, Can You Spare a Dime - 3:12 (Gorney, Jay) City of New Orleans - 4:07 (Goodman, Steve) I'll Be Seeing You - 3:44 (Fain, Sammy & Irving Kahal) Pirate Ships - 2:42 (Waldman, Wendy) Born To The Breed - 4:45 (Collins, Judy) Personnel: Judy Collins (vocals, piano); Steve Goodman (acoustic guitar, background vocals); Hugh McCracken, David Spinozza, Steve Burgh, Charlie Brown, Cliff Morris (guitar); Gene Orloff, Harry Cykman, Alvin Rogers, Bob Reynolds (violin); Jerry Smith, Sidney Weinberg (woodwinds); Wayne Andre, Garnett Brown, Vinnie Fanuele (trombone); Frank Wess, Randy Brecker, Wechsler (horns); Dominic Cortes (accordion); Don Brooks (harmonica); Ken Ascher (electric piano); Ken Bichel (synthesizer); Tony Levin, John Beal (bass); Stephen Gadd (drums); Ralph MacDonald, Hank Jaramillo (percussion); Denver Collins, Sylvia Shemwell, Eunice Peterson (background vocals).Recorded at A&R Studios, New York, New York.All tracks have been digitally remastered using HDCD technology.Widely and appropriately considered the masterpiece of Judy Collins' '70s pop albums, 1975's JUDITH is both an artistic success and a commercial triumph. This album's single, a sensitive, piano-based reading of Stephen Sondheim's "Send in the Clowns," was a surprise hit which to this day evokes memories of mid-'70s AM radio for anyone old enough to remember.The rest of the album, perhaps surprisingly, is up to that same level of quality. The opening, a low-key version of Jimmy Webb's oft-covered "The Moon is a Harsh Mistress," is spectacular, and other covers, like Steve Goodman's "City of New Orleans" and the Rolling Stones' "Salt of the Earth"--which works much better than you might think--showcase various aspects of Collins' remarkable interpretive facility. Unlike many albums of the era, the production does not feel particularly dated. JUDITH is a fine example of mid-'70s adult contemporary pop.
tambien puede interesarte de nuestro catálogo