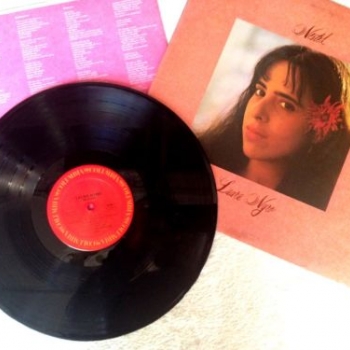 aqui le tenemos devocion dede siempre...es mi cantante favorita junto a carole king. ..

ES UNO DE SUS MAS INTIMOS TRABAJOS, GRABADO EN EL ESTUDIO QUE ELLA MONTO EN SU CASA Y DURANTE EL EMBARAZO DE SU HIJO, LAURA NYRO COMPONE Y TOCA DE MODO MUY PERSONAL CANCIONES NADA COMERCIALES Y COMO SIEMPRE MUY INSPIRADA

PRECIOSA EDICION ORIGINAL CONTENIENDO EL GRUESO ENCARTE INTERIOR

IMPECABLE VINILO, ALGUN DESGASTE EN CARPETA
Mr. Blue (The Song Of Communications)
Rhythm & Blues
My Innocence
Crazy Love
American Dreamer
Springblown
The Sweet Sky
Light - Pop's Principle
Child In A Universe
The Nes

Laura Nyro - vocals, electric and acoustic piano, church organ, guitar, strings
Will Lee - bass guitar
Andy Newmark - drums
Vinnie Cusano - guitar
John Tropea - guitar
Nydia "Liberty" Mata - percussion
John Sebastian - harmonica
Cyril Cianflone - bass guitar
Tony Levin - bass guitar
Felix Cavaliere - electric piano, organ


tProduced by Laura Nyro and Roscoe Harring. Engineered by Dale Ashby, Pop Ashby, and Frank Koenig. Vinnie shares guitar duties with John Tropea. Felix Cavaliere from Treasure on keyboards/piano on tracks 7 & 10, and it would seem most likely, due to Vincent's "connection" with Felix, that these are the tracks that he plays on, however no substative listing has yet been found.
tambien puede interesarte de nuestro catálogo