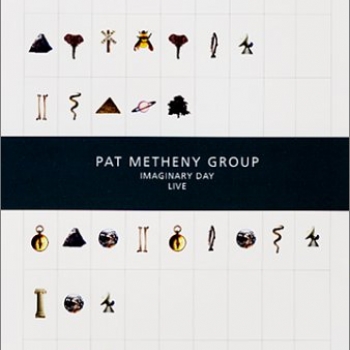 93 mtos de imagenes y sonidos fascinantes..yo tuve la suerte de asistir a la presentacion de este albun que me dejo helado, methny electrico con una de sus mejores foraciones y un sonido dscomunal....puro futuro del jazz y por supuesto uno de mis discos preferidos y que mas escucho.
Imaginary Day Live
-----------------------
1.Into The Dream
2.Follow Me
3.A Story Within The Story
4.Imaginary Day
5.Heat Of The Day
6.Across The Sky
7.The Roots Of Coincidence
8.Message To A Friend
9.September Fifteenth
10.Minuano
Format: Color, Dolby Digital 5.1 and DTS 5.1
Studio: Pioneer Artists
DVD Features: Production notes
Band biographies
Discography
Reflections on Imaginary Day (An Interview with Pat Metheny)
Full-screen format
Pat Metheny Group Listener Network: www.patmethenygroup.comMore Travels (Pat Metheny Group - Geffen, 1993) En una música tan colorista y paisajística como la de Pat Metheny (especialmente la del Pat Metheny Group), y habiendo compuesto varias bandas sonoras, no era de extrañar que el guitarrista complementara su trabajo musical con imágenes en movimiento. Su primer intento, a nombre del PMG, fue en VHS, grabado en el período que transcurrió entre Letter From Home (1989) y We Live Here (1995). More Travels ("más viajes", en clara referencia a su directo Travels de 1983) apareció a la vez que el CD en directo The Road to You, e incluyó algunos de los grandes éxitos del Group junto con los nuevos temas Half Life Absolution y el propio The Road to You. Grabada en 1992, esta cinta da la medida de lo que la banda ofrecía a principios de los noventa. El buen hacer de los Metheny, Mays, Rodby, Wertico, Marçal y Aznar se deja ver en clásicos como Have You Heard, Last Train Home, The First Circle, Letter From Home o Are You Going with Me?, con Pat realizando bellísimos solos y una puesta en escena, cuando menos, curiosa. Incluye entrevistas con los músicos.
tambien puede interesarte de nuestro catálogo