6 artículos encontrados
MOSTRANDO 1-6 de 6
Script For A Jester's Tear
CD FIRMADO POR FISH !!
CD FIRMADO POR FISH EN LA PORTADA, LIDER Y VOCALISTA DE LA BANDA MARILLION GRAN PIEZA PARA FANS Y COLECCIONISTAS. !! ABSOLUTA OBRA MAESTRA ESTE CD EN SU EDICION EN DIGI-PACK MARILLIONS cript For A Jester's Tear UK CD ALBUM SIGNED & DATED BY FISHDetailsAn incredible find - a genuine signed copy of this CD album. In a stunning hand signed sleeve. Signed boldly to the front of the inner booklet by Fish 2006. Includes full length CD with card gatefold case etc. A superb collectors piece!
Kayleigh / Lady Nina
3 TEMAS..BRITISH PROG. FISH !! / ORIG. EDIT !! COLLECTORS !!
EDIC. ORIGINAL UK ,RARO MAXI QUE CONTIENE 3 TEMAS.... SIN NINGUNA DUDA LA MEJOR BANDA QUE REVITALIZO EL PROGRESIVO BRITANICO EN LOS 80 Y QUE SEGUIO LA ESTELA DE GENESIS..ESTE FUE TAMBIEN EL ULTIMO ALBUN QUE GRABO SU VOCALISTA FISH ANTES DEJAR LA BANDA IMPECABLE ESTADO !! El grupo se formó con el nombre Silmarillion, usando el título de la obra literaria de J.R.R. Tolkien, El Silmarillion en 1979. Acortaron el nombre a simplemente Marillion en 1980 supuestamente por amenazas legales por parte de los detentores de los derechos de la obra de Tolkien. Las primeras obras de Marillion contienen letras poéticas e introspectivas escritas por Fish, que, sobre un fondo musical sumamente complejo, reflejaban las influencias del grupo, notablemente los grupos Genesis (en su primera etapa), Van der Graaf Generator y Yes. it is a record...made in the Uk, with a picture cover and all artwork . includes Alternative Mix & Extended Version, plus Lady Nina Extended Version Marillion emerged from the short-lived progressive rock revival of the early '80s to become one of the most enduring cult acts of the era. The group formed in Aylesbury, England in 1979, and adopted their original name, Silmarillion, from the title of a J.R.R. Tolkien novel. Initially, Marillion comprised guitarist Steve Rothery, bassist Doug Irvine, keyboardist Brian Jelliman and drummer Mick Pointer, but after recording "The Web," an instrumental demo, they recruited vocalist Fish (born Derek Dick) and bassist Diz Minnett. Prior to recording their debut single "Market Square Heroes," keyboardist Mark Kelly and bassist Pete Trewavas replaced Jelliman and Minnett; Marillion issued its debut album Script for a Jester's Tear in 1983, and on the strength of their relentless touring schedule the group won a loyal following. With new drummer Ian Mosely (formerly of Curved Air) firmly in place, they returned to the studio for 1984's Fugazi, which streamlined the intricacies of the group's prog rock leanings in favor of a more straight-ahead hard rock identity; the refinements paid off, and both "Assassin" and "Punch and Judy" became British hits. ....
real to reel
BRITISH PROG. FISH !! / EDIT. UK
SIN NINGUNA DUDA LA MEJOR BANDA QUE SEGUIO LA ESTELA DEL PROGRESIVO EN LOS 80, MUY INFLUENCIADOS POR GENESIS..Y CON UNA FAMA Y REPUTACION GANADA A PULSO PARA TODA LA PARROQUIA DEL PROGRESIVO QUE DESPUES DE MUCHOS AÑOS SIGUEN LLENANDO SUS CONCIERTOS DONDE APAREZCAN. todo EX ESTADO !!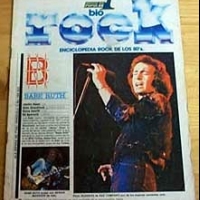 u2,beasty boys,marillion,d.bowie,...
, BRIAM ADAMS,THE WHO,JUDAS PRIEST,MARILLION,RUSH,B.JOEL,ETC..
lote 9 conciertos video
COLECCION DE 9 PELICULAS MUSICALES, CONCIERTOS DE MUSICA EN SISTEMA BETA !! TODO EN ESTADO EXC, PERTENECEN A MI COLECCION PARTICULARBRIAM ADAMS,THE WHO,JUDAS PRIEST,MARILLION,RUSH,BILLY JOEL, JEFFERSON STARSHIP, CLIFF RICHARD AND THE SHOWS,
Reading Rock Volume One
Whitesnake, Michael Schenker,Twisted Sister, ufo, marillion...
legendario doble albun de mas famoso festival heavy de todos los tiempos.. el Reading Festival de 1982 se grabo en este albun con bandas que ya son de culto para los amantes del genero como Whitesnake, Michael Schenker,Twisted Sister, ufo, marillion pero tambien hay otras muy interesante que quiza no consieron tanta popularidad como las anteriores pero que son historia tambien como:Budgie, bernie marsden, spider,chinatown..etc..