3 artículos encontrados
MOSTRANDO 1-3 de 3
odeon, manchester 30 may. 1963
CARTEL CONCIERTO 30X40
REPRODUCCION DEL HISTORICO CARTEL - CONCIERTO, Impreso en papel grueso de calidad Extra !!! .... OFERTA !!! ..COMPRA 4 CARTELES POR SOLO 30 EUR !!! puedes elegirlos entre todas las ref que ofrecemos. Decora las paredes con tus carteles, posters favoritos.Para tamaño A4. 30x40 cm,
the orbison way
ORIG. EDIT. !!
SENSACIONAL y AUTENTICA 1ª EDICION ORIGINAL !!!..UNA ABSOLUTA JOYA A GRAN PRECIO.PRECIOSA CARPETA  !! nos encontramos ante una joya atemporal: cualquiera de los dos mayúsculos singles que contiene el disco, "Crawling back"- que lo abre- y la bailable "Breaking up is breaking my heart", un uptempo beat que quita el hipo,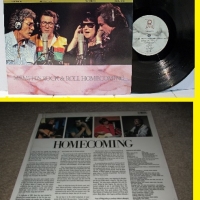 class of 55
J. FOGERTY, D. EDMUNDS, GREAT REUNION !!
absoluta maravilla..menuda reunion de gigantes.. 4 mostruos sagrados y de los que solo nos queda vivo uno de ellos..la grabacion fue todo un acontecimiento..con el tema BIG TRAIN FROM MEMPHIS DE JOHN FOGERTY .. todo en impecable estado !!..COLLECTORS !!ademas participan en la grabacion gente como: john fogerty, dave edmunds..etc..