10 artículos encontrados
MOSTRANDO 1-10 de 10
at The Forum in Los Angeles Concert 1976
CARTEL CONCIERTO 30X40
REPRODUCCION DEL HISTORICO CARTEL - CONCIERTO, Impreso en papel grueso de calidad Extra !!! .... OFERTA !!! ..COMPRA 4 CARTELES POR SOLO 30 EUR !!! puedes elegirlos entre todas las ref que ofrecemos. Decora las paredes con tus carteles, posters favoritos.Para tamaño A4. 30x40 cm,
venus and mars
Allen Touissant, DAVE MASON, THE BEATLES !!
ROBUSTA EDIC USA, CON DOBLE CARPETA Y GRUESO ENCARTE INTERIOR, ES SIN DUDA UNO DE SUS MEJORES TRABAJOS EN LOS 70 BUENOS AMIGOS TOCAN EN EL DISCO, COMO.. Allen Touissant Y DAVE MASON...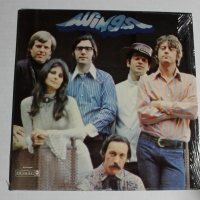 wings
1º lp !! USA GROUP, ORIG edt usa !! PSYCH - WEST COAST !!
deliciosa formacion Psychedelic Rock, Acid Rock de finales de los 60 con miembros de bandas como Spanky and Our Gang o Steve Knight, que despues tocaria con Mountain, Jefferson Airplane y otras.. tambien como curiosidad Eddie Simon, que era hermano de Paul Simon de Simon & Garfunkel. solo editaron este unico lp, IMPECABLE EDIC. ORIG. (Dunhill DS-50046) ... INCREIBLE COPIA, 50 AÑOS Y SE ENCUENTRA PRECINTADA !!
wild life
raro 1º LP !! ORG EDIT USA !! beatles, paul mccartney
SU BUSCADO 1º LP DE SU BANDA WINGS.. GRANDIOSO DEBUT EN SOLITARIO JUNTO A MUSICOS COMO EL GUITARRA DANNY LAINE ENTRE OTROS Y...A DESTCAR QUE ALAN PARSONS ESTA AQUI COMO INGENIEROD E SONIDO,,,, EL DISCOS ES TODO UNA SOPRESA..ME ENCANTA LA VOZ DESGARRADORA DE PAUL, ESTA INMENSO TAMBIEN...CONTIENE EL SOBRECOJEDOR TEMA.. DEAR FRIEND DEDICADO A JOHN LENNON PRECIOSA EDICION ORIGINAL, SUPER GRUESA CARPETA..CON EL 1º LABEL QUE TIENE UN DISEÑO EXCLUSIVO ,nada facil de conseguir . TODO EN EXC ESTADO..
london town
Classic Rock First Press !! Jimmy McCulloch, Denny Laine
BUEN PRECIO !! para esta edicion en estado impecable ( mantiene aun el precinto en la carpeta )... preciosa 1ª edicion con super grueso encarte interior con los textos etc... y tambien con el bonito label original con exclusivo diseño.!!!!!.. FUE SU 6º TRABAJO EN ESTUDIO Y ES SIEMPRE UN DISCO RECOMENDADO CON GRANDES TEMAS DE PAUL RODEADO DE SU BANDA WINGS
wings over america
28 TEMAS, TRIPLE LP + ENCARTES, USA EDIT, THE BEATLES !!
FANTASTICA LUJOSA EXC EDICION ORIGINAL USA DE ESTA OBRA MESTRA DE PAUL JUNTO A SU BANDA, SE TRTA DE UN TRIPLE ALBUN GRABADO EN VIVO EN SU GIRA POR ESTADO UNIDOS, FUE SU PRIMER DISCO EN DIRECTO realizado durante su gira americana recoje 28 temas en vivo con un expectacular montaje y potente sonido... QUE puedo decir ya que consumi en mi plato hora tras horas de escuchas de este discos ,temas de beatles y sobre todo de los wings en vivo..absolutas gemas compuestas por paul y su banda...en estado de gracia TODO EN EXC ESTADO, LA EDICION CONTIENE LOS 3 ENCARTES INTERIORES Y LOS 3 LABELES CON FANTASTICOS DISEÑOS EXCLUSIVOS !!
it´s my party / waiting in the wings
COLLECTORS !! editado en el prestigioso LABEL STIFF RECORDS
sassy swings the tivoli
quicy jones, ORIG. EDIT.
ESTUPENDA EDIC. ORIG. LABEL MERCURY todo un lujo escuchar a sarah vaughan bajo la direccion musical del gran Quincy Jones. grabado en vivo en July 18, 1962 at The Tivoli Gardens, Copenhagen. un show maravillo con temas como fly me to the moon y mas delicias en una d las voces eternas que dieron al jazz una gran altura
wings of love
legend motown sound !! PRECINTADO !! top copy !!
SON MUY..MUY GRANDES..preciosa carpeta y un lp con excelentes vientos y solida produccion The highly anticipated follow-up to A Song for You failed miserably. At the root of the problems was co-producer Bowen's fixation with Dennis Edwards. Bowen wanted to record an Edwards solo project, which the group refused to allow, so he went ahead and did the next best thing—recorded most of the tracks here with only Dennis' voice audible. Regardless of that, two of those songs, "Paradise" (not a reprise of the 1962 single), and the title track are satisfying listens. The album's only single, "Up the Creek (Without a Paddle)," featured Sly Stone as an unaccredited writing contributor.
ahh laine
1º lp !! beatles, wings,
todo un musico completo...que primero toco como guitarra y vocal en The Moody Blues,Ginger Baker's Air Force..y mas tarde se convirtio en fundador y guitarra de wings de paul mccartney, ... ESTE ES SU BUSCADO 1º ALBUN en la 1ª EDIC Y LABEL....TODA UNA DELICIA....GRABADO CON MIEMBROS DE Stone the Crows: Steve Thompson (bass) Y Colin Allen (drums), ademas del gran guitarra John Moorshead ( Aynsley Dunbar's Relatiation) un discos maravilloso, su voz es muy buena y tambein sus composiciones, un musico fundamental como escucharas en las bandas en que participo gruesa carpeta con alguna decoloracion,contiene tambien el encarte del sello reprise records.. vinilo en impecable estado