9 artículos encontrados
MOSTRANDO 1-9 de 9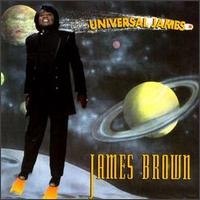 James Brown, dueño indiscutible del Soul, cuyas únicas influencias fueron Dios y su fuerza de determinación, James Brown tocó en su dorada juventud varios temas de Rhythm & Blues.- http://www.funky-stuff.com/ "the Godfather of Soul" (El Padrino del Soul).1 Can't Get Any Harder Clivilles, Cole, Higgins ... 3:53  Composed by: Clivilles, Cole, Higgins, Jackson, Ramos, Scott, Smith  2 Just Do It Browne, Mowat, Romeo 4:37  3 Mine All Mine Browne, Mowat, Romeo 4:15  4 Watch Me Browne, Mowat, Romeo 3:58  5 Georgia-Lina Brown, Sherrell 5:03  6 Show Me Your Friends Browne, Mowat, Romeo 5:03  7 Everybody's Got a Thang Brown 3:57  8 How Long Browne, Mowat, Romeo 5:29  9 Make It Funky 2000 Brown 4:56  10 Moments Browne, Mowat, Romeo 8:05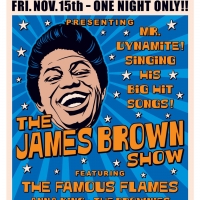 Raw Soul at Baltimore Concert 1963
CARTEL CONCIERTO 30X40
bonito CARTEL - CONCIERTO,  TAMBIEN PODEMOS ENVIARTE EL CARTEL ENMARCADO POR 25 EUR, CONTACTA CON NOSOTROS SI ES LO QUE QUIERES. Decora las paredes con tus carteles, posters favoritos. Excelente articulo, solido marco de alumino y cristal, nada que ver con otras versiones con marcos de plastico y metacrilato imitando vidrio. Para tamaño A4. 30x40 cm, Cuélgalo de pie, bien en horizontal o en vertical; se adapta al espacio disponible ESTE ARTICULO NO ENTRA EN LA OFERTA DE ENVIO GRATUITO A SUPERAR LOS 60 EUR DE COMPRA Medidas de los productosAncho: 31 cm Altura: 41 cm ancho de lámina: 30 cm alto de lámina: 40 cm Descripción del producto Marco: Aluminio Protector de frente: Vidrio
GRABADO EN VIVO Atlanta concert  1985, Live at Chastain Park shows CON MACEO PARKER !!!James Brown, dueño indiscutible del Soul, cuyas únicas influencias fueron Dios y su fuerza de determinación, James Brown tocó en su dorada juventud varios temas de Rhythm & Blues.- Live At Chastain ParkTracks    1  Introduction / Give It Up Or Turn It Loose  2  It's Too Funky in Here   3  Gonna Have a Funky Good Time   4  Try Me 5  Get on the Good Foot 6  Get Up Offa That Thang!    7  Georgia on My Mind 8  Hot Pants  9  I Got the Feeling 10  It's a Man's Man's Man's World 11  Cold Sweat 12  I Can't Stand Myself (When You Touch Me) 13  Papa's Got a Brand New Bag  14  I Got You (I Feel Good) 15  Please, Please, Please 16  Jam  BrownRecorded at an Atlanta concert in 1985, Live at Chastain Park shows that James Brown had lost nothing even at 52 years of age. Starting with the full-force attack of "Give It Up or Turnit a Loose," Brown goes into a ferocious "Doing It to Death," with a sax solo by the legendary Maceo Parker. From there, the show is brutal, pure high-energy funk delivered by a top-notch outfit, seguing from a gritty "I Can't Stand Myself (When You Touch Me)" to a subdued, delicate cover of "Georgia on My Mind." There are lovely versions of "Try Me" and "It's a Man's Man's Man's World" interspersed amidst the funk for diversity's sake, but the real treat is the closing "Jam," which shows off the cohesion of the band to full advantage. The sound quality is first-rate and the song selection picks almost every one of Brown's classics (although maybe "Sex Machine" might have been squeezed on here). Live at Chastain Park is a classic document of James Brown's stage act and is definitely worth tracking down. ~ Victor W. Valdivia, All Music Guide James Brown (Vocals), James Brown (Main Performer), St. Clair Pinckney (Sax (Tenor)), Maceo Parker (Sax (Alto)), Maceo Parker (Bandleader), Tony Cook (Drums), Arthur Dickson (Drums), Johnny Griggs (Percussion), Tony Jones (Guitar), Larry Moore (Keyboards), Martha High (Vocals), Sweet Charles Sherrell (Director), Sweet Charles Sherrell (Keyboards), James Razor Brown (Vocals), James Razor Brown (Producer), George Dickerson (Flugelhorn), Ron Laster (Guitar)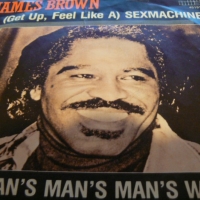 Get Up I feel Like a Sex Machine / IT`S A MAN`S..
raro single edit. holandesa , COLLECTORS !!
Sings out of sight and plays
FUNK !! ORG. EDIT. USA !!
RARO DOBLE LP EN LA DISCOGRAFIA DE JAMES BROWN !!..COLLECTORS FUE GRABADO EN 1964 PERO POR CAUSAS LEGALES NO SE EDITO HASTA 1968,FUE UNO DE LOS PRIMEROS ALBUNES CON EL IMPRESCINDIBLE SAXO DE MACEO PARKER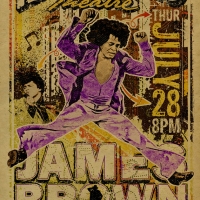 the godfather of soul
CARTEL CONCIERTO 30X40
CARTEL 30X40 CONCIERTO. REPRODUCCION DEL HISTORICO CARTEL - CONCIERTO, Impreso en papel grueso de calidad Extra !!! .... OFERTA !!! ..COMPRA 4 CARTELES POR SOLO 30 EUR !!! puedes elegirlos entre todas las ref que ofrecemos. ** TAMBIEN PODEMOS ENVIARTE EL CARTEL ENMARCADO , CONTACTA CON NOSOTROS SI ES LO QUE QUIERES. Decora las paredes con tus carteles, posters favoritos.
Plays The Real Thing
PEE WEE ELLIS, RARA EDIT. KOREA
MUY RARA EDIC. KOREANA !!! es la prueba de que james brown llego a todo el mundo !!! collectors !!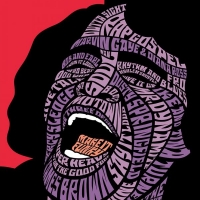 The Sun Herald Swing & Soul
CARTEL CONCIERTO 30X40
REPRODUCCION DEL HISTORICO CARTEL - CONCIERTO, Impreso en papel grueso de calidad Extra !!! .... OFERTA !!! ..COMPRA 4 CARTELES POR SOLO 30 EUR !!! puedes elegirlos entre todas las ref que ofrecemos. Decora las paredes con tus carteles, posters favoritos.Para tamaño A4. 30x40 cm,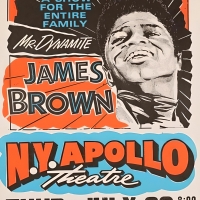 mr. dynamite at the apollo theatre concert
CARTEL CONCIERTO 30X40
CARTEL 30X40 CONCIERTO. REPRODUCCION DEL HISTORICO CARTEL - CONCIERTO, Impreso en papel grueso de calidad Extra !!! .... OFERTA !!! ..COMPRA 4 CARTELES POR SOLO 30 EUR !!! puedes elegirlos entre todas las ref que ofrecemos. Decora las paredes con tus carteles, posters favoritos.Para tamaño A4. 30x40 cm,