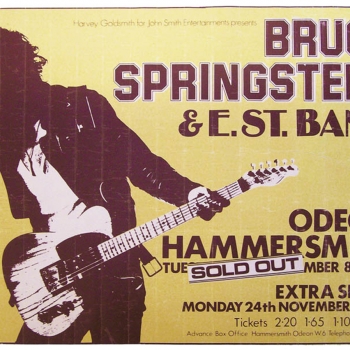 CARTEL 30X40 CONCIERTO.

estupenda reproduccion del cartel del concierto celebrado en el mitico FILLMORE DE SAN FRANCISCO en 1966, HISTORICO CARTEL - CONCIERTO, Impreso en papel grueso de calidad Extra

!!! .... OFERTA !!! ..COMPRA 4 CARTELES POR SOLO 30 EUR !!! puedes elegirlos entre todas las ref que ofrecemos.

Decora las paredes con tus carteles, posters favoritos.Para tamaño A4. 30x40 cm,
Original poster for Springsteen and the E-Street band's London debut. The 18th November date was to become one of the most celebrated concerts ever seen in the UK. In 2005, Springsteen commented: "It was the show that put us on the map in England and began a long and beautiful relationship with our fans overseas."
The poster is very rare.
tambien puede interesarte de nuestro catálogo