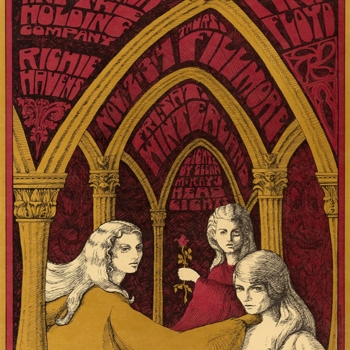 ESTUPENDA REPRODUCCION DEL CARTEL DE PINK FLOYD Y JANIS JOPLIN CON SU GRUPO BIG BROTHER AND THE HOLDING COMPANY

FILLMORE AND WINTERLAND,SAN FRANCISCO CALIFORNIA BG 91 -...!!! CREADO PARA SU ACTUACION EN EL MITICO FILLMORE DE SAN FRANCISCO EN NOVIEMBRE 1967.

Pink Floyd, Big Brother, Richie Havens BG91 . Fillmore 1967. This concert was when Syd Barrett was still with Pink Floyd. Art by Bonnie MacLean.29 April 1967 The famous 14 Hour Technicolour Dream at Alexandria Palace was a benefit for the International Times. Although the concert began on 29 April, the Pink Floyd were the last act to play. They performed as dawn broke on the morning of 30 April.
tambien puede interesarte de nuestro catálogo