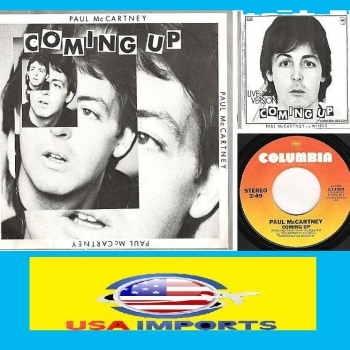 RARO EP QUE CONTIENE 3 TEMAS..

LA CARA B CON LA VERSION EN VIVO Y NUNCA EDITADA EN NINGUNO DE SUS ALBUNES..COLLECTORS...

MUCHOS RECUERDOS ME TRAE ESTE TEMA..YA QUE ASISTI A LA PUBLICCION DEL TEMA CAMING UP Y PARA UN BEATLEMANO Y SEGUIDOR DEL GRAN MACCARTNY COMO YO.. FUE UN BOMBAZO...EL TEMA NO PARABA DE SONAR POR TODOS LADOS EN AQUEL 1980...ERA PURO MACCA AL 100%.. ..MUCHOS AÑOS DESPUES PUDER VER AL PROPIA MACCARTNEY TOCARLO EN DIRECTO EN BARCELONA..Y EL CIRCULO UNA VEZ MAS SE CERRO.....
paul mccartney
coming up / lunch box / live version coming up
TEMAS INEDITOs / THE BEATLES !!
Recorded during the summer of 1979 solo sessions the A-side appeared one month later on "McCartney II".
Probably the most memorable thing about the release was the stunning video that Paul made to promote the song on television. Recorded on 26th/27th March 1980, film-maker Keef McMillan used a new computerised desk to have Paul appear as ten people AT THE SAME TIME, a band that Paul cleverly dubbed "The Plastic Macs". Paul imitated the looks of, Buddy Holly, Frank Zappa, Ron Mael, Andy Mackay, Ginger Baker (looking more like "Animal" of The Muppets !) and even a 1964 Beatle version of himself ! Linda also appeared in two guises making "The Plastic Macs" a 12-piece band. "Coming Up" on the B-side was recorded live on December 17th 1979 at the Glasgow Apollo with the last Wings line-up.
The second track, "Lunchbox/Odd Sox" was recorded in L.A. in February 1975 during the Venus And Mars sessions, and featured the earlier "Mark V" version of "Wings".
tambien puede interesarte de nuestro catálogo